#1
Arillas Beach
One of Corfu best beaches, Arillas has magnificent sunsets, clay and sand to play with, and crystal-clear waters. By a street - walk on for the quiet part.
#2
Avlaki Beach
Kassiopi
A pebble beach without crowds and loud noises. Don't forget to bring a mask and snorkel and your umbrella. In the morning, enjoy the natural shade.
#3
Agios Stefanos Beach
Avliotes
Shallow waters, low surf, magnificent sand. Ideal for kids. Beach bars offer amenities. Walk along and you find the beach's pristine part. Colorful sunsets.
#4
Agios Georgios Beach
St George is a long sandy beach on a crescent bay. Nice beach bars. From here you can take a boat to Timoni, a secluded beach on the bay's headland.
#5
Pelekas
Wide, sandy, organized - Kontogialos is among Corfu's top beaches. Clean waters, great sunsets, quality beach bars. Take mask and snorkel.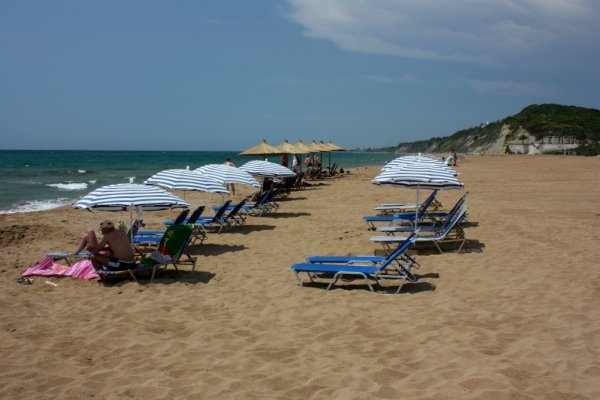 #6
Among Corfu best beaches, Marathias is sandy, long and wide, and so spacious. You will find a few beach bars with quality services. Sunsets are mind-blowing.
photo: Jeff
#7
Barbati Beach
If you dont mind the pebbles, Barbati is a fantastic beach at the feet of an imposing rock. Sunbed rental, bars, and space for your own umbrella.
#8
Kerasia Beach
Kassiopi
If you consider that villages and buildings are visual pollution, then Kerasia is for you. The Cherry Tree beach as it translates has space for everyone.
+ 12
Corfu Beaches
→