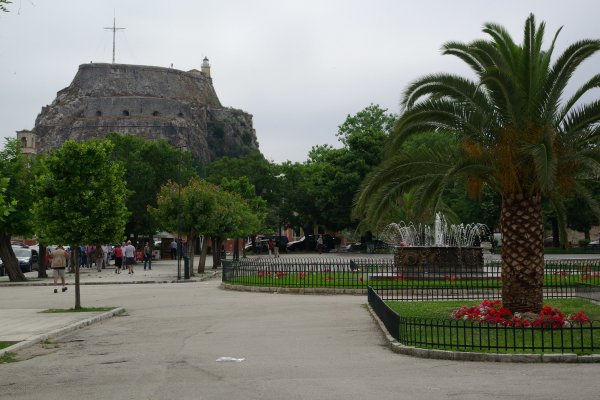 #1
Spiniada is officially the largest square in Greece and it got its name from a Venetian word meaning 'an open flat area'.
#2
Paleokastritsa Monastery
A fantastic monastery on a scenic cape but not for high season. Anyhow, visit also the viewpoints and Nausika's cave for pictures, and the donkey station.
photo: Luc Coekaerts
#3
Paleokastritsa Viewpoint
A viewpoint with views of Paleokastritsa's bays, the monastery, the infinite sea, and steep-rock cliffs. Go there for sunset. Simply breath-taking, innit?
#4
The Blue Eye Cave
Don't go to this place without mask and snorkel. You will miss 90% of what's to see. Shimmering-blue waters, nice cave. Fabulous by kayak.
#5
Pantokrator Monastery
The 1347 monastery is lovely but the breathtaking panoramic view is why most people take the windy roads to the hilltop. Unless in summer, hike to this place.
#6
Kaiser William II Observatory
Here you lay your eyes on the same view that a German Emperor had. With a few more buildings and powerlines, I suppose. Don't miss it if you're nearby.
photo: Public Domain
#7
Cape Drastis
Erosion has worked miracles at Cape Drastis. An excellent setting for exotic pictures with panoramic views. Sunset time is definitely best.
#8
Aqualand Corfu Water Park
Kids love water parks, and Aqualand's hydrotubes, catapults, and multi-slides promise serious fun times. A convenient place for the whole family.
#9
Old Perithia Village
Old Perithia is a great place for photographer. Its an abandoned village on a hill with magnificent views. Plenty of material here - a window in time.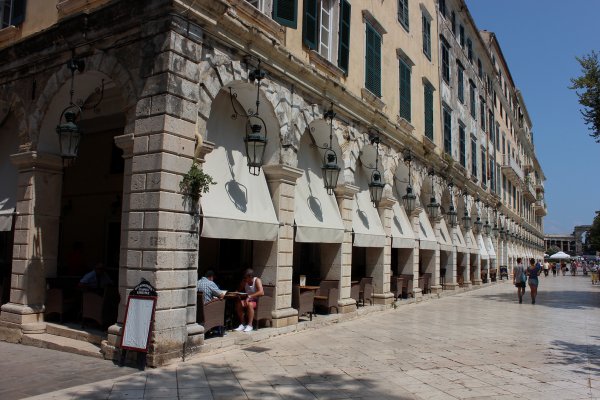 #10
The Central pedestrian street on the western side of Spianada Square is famous for its large arches, as well as its restaurants and cafeterias.
#11
Corfu Aquarium
Once at Paleokastritsa, the Corfu Aquarium's impressive collection of species will take you just 45 minutes. Free guided tour. Inexpensive entrance.
#12
Agios Gordios Shipwreck
A small boat eroded into smaller pieces scattered on the beach. It's a place with a strange beauty. Maybe suitable for decay photography on the beach.
#13
Gouvia Venetian Shipyard
What an interesting place. The Gouvia Venetian Shipyard is an anchor to this place's long history. Best enjoyed between dives at the Gouvia beach.