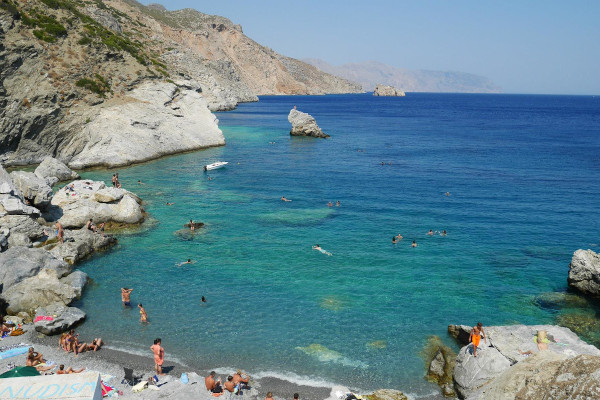 photo: Julien Maury
#1
Agia Anna Beach
Agia Anna has a rocks-and-pebbles beach. Everybody loves the small church, the overlooking mountain mass, and the ideal-for-snorkeling sea.
#2
Levrossos Beach
Sand-and-pebbles beach overshadowed by hills, at least in the edge of it. It has a beach bar and a tavern. Accessible from Aegiali through a 300m path.
#3
Katapola
It takes about 15 minutes to get to Maltezi bay on foot. The stunning, sandy beach has a bar and abundant space for relaxing days under the sun.
#4
Agios Pavlos Beach
Agios Pavlos is a pebble beach that stands out for a narrow strip of land, like a natural breakwater, in the crystal-clear waters. Ideal for snorkeling.
#5
South Amorgos
Small pebble-and-sand beach with just one tree, and a few sunbeds and umbrellas by a canteen. Perfect for sunset and and full-moon nights.
#6
South Amorgos
Windless bay with a sandy beach and translucent waters. A small boat departs from Kalotaritissa to the small island of Gramvousa.
photo: Dcarters at en.wikipedia
#7
Egiali (Aegiali) Beach
A long beach facing Aegiali village. It is home to legendary beach bar Q, and a few cafés and restaurants. Sunsets here are breathtaking.