Attractions & Things to Do in Mesolongi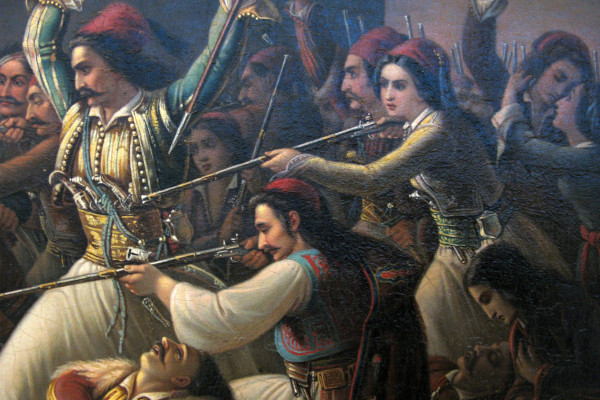 Located at the central square hosts many exhibits dedicated to the heroes of the historic Exodus.
photo: Gkatselis
Roe Caviar of Mesolongi
«Avgotaracho»
It is a local delicacy of salt-preserved, cured fish-roe, also known as bottarga.
Inaugurated in 2014, it hosts a great variety of over 2000 books and records in a 18th-century building.
Old mansion that was the family house of the Trikoupis family and was erected in 1840.
«Limnothalassa»
22.000 acres salt lake with one-meter median water level, stands for its salt and fish production as well as for the famous caviar (avgotaraho).
Impressive monument complex dedicated to the guards and the fighters of the city who lost their lives during the battle for independence.
A non-profit organization founded in 1991 and housed at the upper floor of the house of Lord Byron in the city of Mesolongi.
Cycling Way Mesolongi - Tourlida
A unique 4 kilometers route that combines a pedestrian and cycling path and reaches the island of Tourlida through the lagoon.
If you are in Greece in February, visit Patras for its popular carnival. This city also hosts an Odeum from Roman times which is still operational.
«Charilaos Trikoupis»
A megastructure and the second connecting point between Peloponnese and the Greek mainland.
It's a charming coastal town with a picturesque, fortified port, famous for the Battle of Lepanto (1571) between Europeans and Turks.
Questions & Answers about Mesolongi
Why Visit Mesolongi?

Its name derives from the Italian words mezzo & langhi that mean "between lakes".
Significant Mediterranean wetland, famous for "Avgotaracho", the local caviar.
Since 1937 it's officially called "Sacred city" due to the heroic Exodus of 1826.
What does Mesolongi mean?

The Greek city of Messolonghi is located in western Greece in the prefecture of Aitoloakarnania. Its name probably derives from the Latin words "messo" and "laghi" (messolaghi) which means "a place between lakes". This is the reason why historically its inhabitants were mainly fishermen who lived in floating houses made of reeds.
Why is Mesolongi so famous?

Mesolongi became well-known in Greece, and throughout the world, for the historic Exodus (exit) of its residents after a heroic resistance to the siege of Ibrahim Pasha. Since 1937 is officially called "Sacred city" due to the heroic Exodus of 1826. The modern Messolonghi is a beautiful city, with traditional buildings many of them inhabited by great figures of the Greek Revolution and the political life of modern Greece.