Old Bridge of Chalkida
Sliding bridge constructed in 1962, it is the trademark that connects the two parts of the city.
photo: Luu
Waterfront of Chalkida
The meeting point for the city that hosts restaurants & cafeterias, while it serves mainly as a central square especially during the summer.
Karababa Castle
Standing on Kanithos hill, it was built by the Turks in 1684, but it reminds European fortifications since it was designed by a Venetian architect.
Red House (Maliou Family)
Municipality owned distinctive mansion that is located at the northern part of the seafront promenade of Chalkida, and dates from 1884.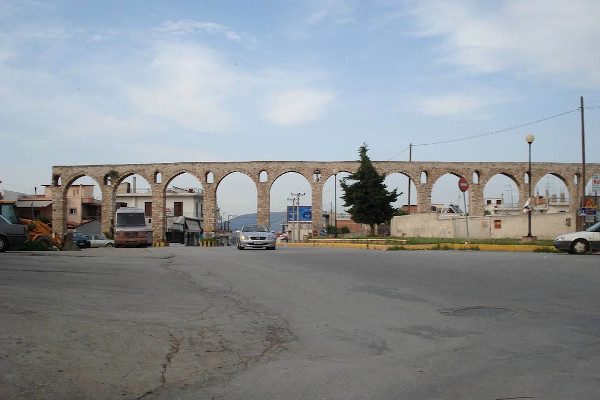 Roman Aqueduct (Arches)
A water-supply project, that was built by the Romans and renovated by Venetians and Turks. Locally referred as «Kamáres».
Monument of National Resistance
At the city seafront promenade stands the statue of the Greek resistance between 1941 and 1944.
Saint Paraskevi Church
Dedicated to the city's patron Saint, it was built by the Latin Church during the Frankish occupation in the distinctive Gothic architecture.
St. Demetrius Orthodox Church
The city cathedral located at the renovated St. Demetrius square and built in 1837 just after the city's liberation from the Turks.
Lyceum «The house with the statues»
Impressive mansion at the seafront promenade of the city, famous for the four clay statues on its roof.
Marina of Bourkari, Chalkida
A wind-protected small marina that hosts numerous fishing and sailing boats, while it's an ideal place for a promenade.