Attractions & Things to Do in Kymi Evia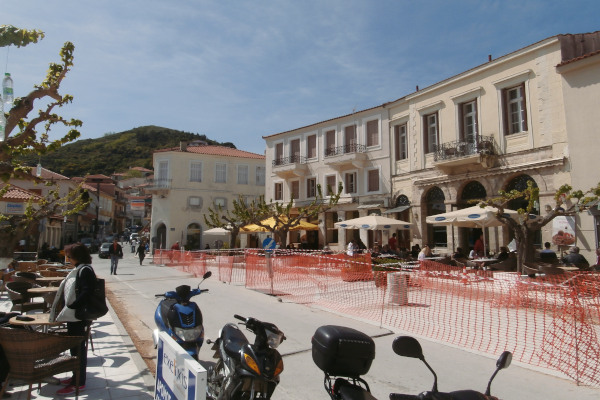 photo: C messier
Town Square of Kymi
Central square in front of the church of St. Athanasios, a vivid spot that offers numerous food and drink choices at its surroundings.
Papanikolaou's House in Kymi
Family home of the researcher, scientist and pioneer who invented Test Pap, the most powerful weapon against cervical cancer.
photo: C messier
Folklore Museum of Kymi
Housed in a neoclassical mansion of the late 19th century, it was inaugurated in 1981 and informs about the local traditions and customs.
Church of Panayia Liaoutsianissa
A structure of 1849 at the southern part of Kymi, that is dedicated to the Virgin Mary and is nominated as a preservable monument since 1965.
Paralia Kimis
In a short distance from the main village, it is the official port of Kymi and a picturesque settlement with many restaurants and tavernas.
Port of Paralia Kymi, Evia
Large, wind-protected port with connection to Skyros the whole year round, while it expands this route to Alonnisos & Skopelos during summer.
Metamorfosis Sotiros Monastery
Convent dedicated to Jesus Christ, founded by Mount Athos monks during the 16th century.
Manikiatis Stream
River of Evia which has its springs at Kserovouni Mountain and flows into the Aegean Sea to the east covering a distance of 25 kilometers.
Archaeological Site in Viglatouri Hill
About 3 kilometers from the sea, remains of the ancient settlement that thrived during the 8th century BC cover the biggest part of the hill.
St. Demetrius Church, Avlonari
Byzantine church from the 13th century AD, located at the settlement Chània, just 1 km away from the picturesque village of Avlonari.
Amarynthos (Vathia), Evia
Coastal village eastern of Eretria that is famous for its picturesque tavernas and the good food including the excellent local fish.
One of the most ancient towns in Greece, Eretria is a family-friendly destination with tons of antiquities, a seaside walkway, and a long sandy beach.
Questions & Answers about Kymi Evia
Why Visit Kymi Evia?

Birthplace of the great benefactor of humanity, doctor George N. Papanikolaou.
87 km from Chalkida, is situated at eastern Evia towards the Aegean Sea.
Called the "Balcony of Aegean" due to its panoramic position 200 m. over the sea.