#1
Metropolitan Church of Agios Achillios
The church is St Achillios tomb and it was built in 6th century. He is now the town's patron saint. Worth a visit - the vista is quite nice too.
#2
Bezesteni of Larissa
In the Ottoman years, Bezesteni was a covered market and Larisa's central square. With the passing of time, it was turned into a treasury and then a fortress.
#3
Monument of Bucephalus
Thessaly's plains were famous for their strong horses and Alexander picked up his here. The statue is a monument to their historical role.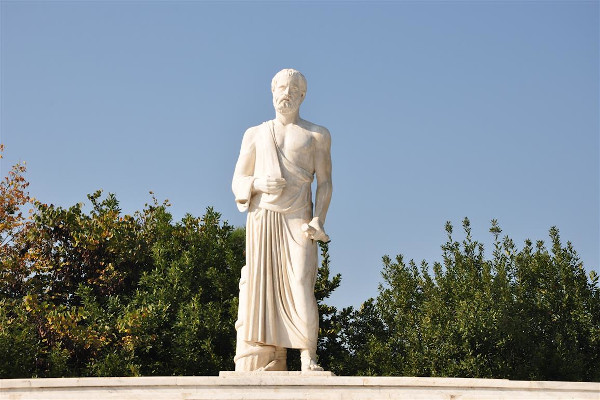 #4
Hippocrates Monument
A modern cenotaph ('empty tomb') memorial to the Father of Medicine who spent his later life in Larissa. Look for the tablet with Hippocrates' oath.
photo: Fsb2004 at the Q52 project
#5
A' Ancient Theatre of Larissa
The biggest in Thessaly with a capacity of 10.000 spectators, the Ancient Theatre of Larissa was founded in 3rd century BC and open for 600 years.
#6
Β' Ancient Theatre of Larissa
The earlier ancient theater dates from the 1st century BC, the years of Roman emperor Octavian Augustus. A nice area with taverns and bars.
#7
East Olympos
Medieval fortress that dominates the landscape of Platamonas and has a great history. Definitely stop by for a picture as the place is not open to public.
#8
Alcazar Park
The contemporary urban park of Larissa serving both as a relaxation place as well as a training area for the city inhabitants.